New Horizons at Villa Park
Aston Villa (11th):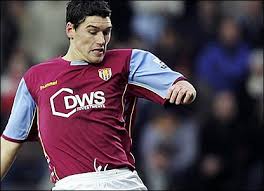 Next in our review series comes Aston Villa, the perpetual mid tablers. A club which, up until recently, seemed to shun ambition and excitement in favour of share returns and Bovril, now finds itself at the beginning of a new era, the cusp of greatness (well outside the top four anyway). I think we can all say… thank God Doug Ellis is gone.
Pre-Season
After the disaster which was Villas last season under David O' Leary, they did not enjoy a particularly settled pre-season with uncertainties over who the new manager and the new owner would be. O' Leary only managed to scrape together 42 points in the 05/06 season, Villas lowest haul since the inception of the premiership, and this saw an overhaul of the club in almost every department. August heralded the arrival of American billionaire, Randy Lerner and a sizable coup in the form of Martin O' Neill as manager. After the reign of former conservative chairman, Doug Ellis, these were exciting times for the Villans with money at the club and a proven, successful manager at the helm. Add to this the fact that some of Villas 'big' players, such as Gareth Barry, Juan Pablo Angel and Olof Mellberg, took heart from the new direction taken by the club and stayed on and the signing of Celtic star, Stillian Petrov and the expectations around the club were steadily rising.
06/07
Without much of a chance to prepare for his first season with Villa, Martin O' Neill could have been forgiven for a slow start but this was not the case. A draw away at Arsenal on the opening day of the season followed by home wins against Reading and Newcastle got the fans pulses racing and was the beginning of a nine match Premiership unbeaten run which was only ended at the end of October at Anfield. This fine start was complimented by the impressive return to form of Gareth Barry whose exploits this season earned him an international call-up and also the emergence of youth team product, Gabriel Agbonlahor who missed one game in the Premiership all season.
Another mini-run after this was only spoiled by an away dismantling at the hands of Chelsea and a home defeat to Manchester City. This reverse at home to Manchester City began a poor run of just two wins between December and March. Despite poor form fans and players remained upbeat. The old war horse, Chris Sutton, came to the club in October and further signings in the January transfer window were enough to keep the Villa faithful happy. The huge signing of John Carew from Lyon supplemented Villas attack and also underlined the new approach at the club.
Although this mid-season slump cost Villa a higher finish and the European place that many had tipped them to achieve after their resounding start to the campaign, the key was to finish strongly and give their fans something to cheer about. After their home defeat to Arsenal in mid March another nine game unbeaten run took place consisting of four wins and five draws.
Overall Villas season has been mixed. The arrivals at the club, in all areas, have added stability and confidence and this was boosted with the early season performances. They seem to have unearthed a ruthlessness which certain players had been lacking under David O' Leary. The ability to scrap for points and also to come back after going behind is the stamp O' Neill has put on this squad with victories away at Blackburn and Middlebrough, having gone behind early, crucial to their end of season run. Villa were a different side this season and are no longer a team which one can under estimate.
Strengths
Aston Villa's main strength is their new manager, Martin O' Neill. Camera shy, softly spoken but hugely experienced and intelligent he has transformed his new squad this season. With only a few changes, he inherited a squad from O' Leary which was demoralised and low in confidence. With Gareth Barry, Angel, Mellberg, Baros and Berger among a host of other players who had decided to leave the club, the arrival of O' Neill convinced them to stay. Obviously the manager is hugely respected by his players and this will be crucial to their fortunes next year.
Having brought in Watford sensation, Ashley Young, John Carew and Celtic's Shaun Maloney O' Neill has bolstered Villa's attacking options. These three plus Luke Moore, Chris Sutton and Gabriel Agbonlahor mean that the attacking department at Aston Villa is looking extremely healthy. They also have two young strikers in Sam Williams and Hungarian, Zoltan Stieber who have been making waves for the reserves.
Weaknesses
Midfield is an area of concern for Villa. Despite having the likes of Gareth Barry, Gavin McCann and Stillian Petrov they need to reinforce with quality players if they are to push forward. Barry, who has been carrying Villa at stages this season, needs some support and surely Villa would be a different proposition with a Sidwell or a Sissoko on the field. Considering the wealth in attacking options it is the midfield which has let the club down at times this season. A feature of Villas games has been an inability to get the ball forward and especially to the wings.
Another area which O' Neill will be looking at is a new goalkeeper. Sorensen has a decent reputation and has made some good saves this season but he has also made his fair share of mistakes. Too often this season Villa have had to come from behind. Imagine what might have been if this wasn't the case? Sorensen really didn't do himself any favours when he single handedly gave Middlesbrough a lead earlier in the season. The other goalkeepers on the roster at Villa are also rather suspect. Stuart Taylor made seven appearances all season and number three, Jon Masalin, didn't feature at all. Sorensen would make a great number two but expect O' Neill to pick up a goalkeeper over the summer.
Transfer Targets
With Randy Lerner's funds now backing the midlands club many expect O' Neill to buy big in the summer. He has declared he won't be held to ransom over players but we can expect him to bring reinforcements in.
Having a large department of strikers, it remains to be seen whether this area needs to be strengthened. Sutton will most likely leave in the summer with Norwich as a possible destination. Carew, Moore, Young and Agbonlahor will all be fighting it out next season possibly along with Craig Bellamy. The Liverpool man is widely tipped to be leaving Anfield in the summer and a reunion with O' Neill at Villa is on the cards. He would bring pace and flair to the team and would be welcomed by all especially Barry who has said that Bellers would take Villa "to the next level".
Midfield definitely needs strengthening but the availability of many top players is in doubt. Sissoko is another candidate to be leaving due to the clearout at Liverpool and he would be a perfect partner in the middle with Gareth Barry but it is uncertain whether he would be open to the move. Other than that there are few quality premiership players who are likely to be on the move. Sidwell would also have been perfect but Chelsea snapped him up on a free.
With Samuel gone to Bolton, Bardsley going back to parent club, Manchester United and youngsters Ridgewell and Cahill rumoured to be moving on Villa will have to bring in one or two defenders over the summer. The defensive ranks still look rather healthy with Mellberg staying on and Bouma being offered a new contract. Hughes and Laursen have done well this year and maybe the arrival of Silvestre from Manchester United in the summer could lend some experience and resolve.
There will be a new goalkeeper at Villa Park come the start of next season. O' Neill took in Hearts game against Kilmarnock last week to cast his eye over Hearts 'Keeper, Craig Gordan. Gordan is well sought after and has peeked the interest of Arsenal manager, Arsene Wenger. But having recently signed Polish stopper Lukasz Fabianski, Wenger is rumoured to have moved away from the Scot. This could pave the way for Gordan to arrive at Villa Park and he would give Sorensen a stern test for the number one spot. Even if its not Gordon, O' Neill is aware that he must bring in a new keeper over the summer.
Next Year?
Expect a different sort of side next season. O' Neill was cautious this season and brought a sense of stability to the club but having finished strongly, expect him and the entire squad to push on from here. The money factor offered by Lerner is also huge and Villa will be attracting big names this summer. Regardless of who arrives over the summer months Villa will be looking at a top ten spot and after that, who knows? Europe could be beckoning for the Villans.